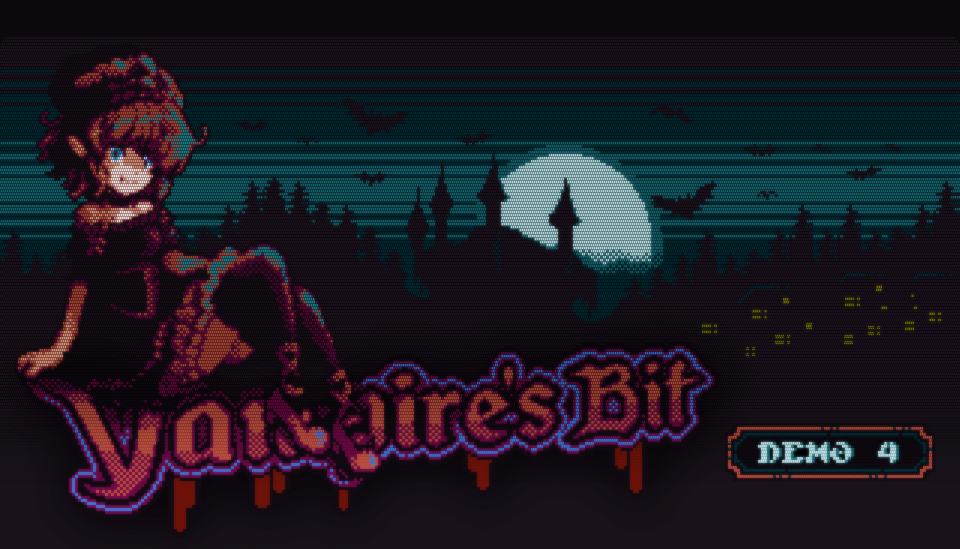 Vampire's Bit [DEMO 4]
A downloadable game for Windows
---
Really simple game. Catch your food while avoiding enemies before the time is up!
In Vampire's Bit you will share your time with Elizabeth, a little vampire girl that needs to drink blood to survive. To get that blood, late at night, she flies to a several places near her castle. Help her catch the villagers when they get out of their houses and avoid the vampire hunters before the sun rises and try to get the highest score. How many nights can you survive?

This update focuses on showing the basics of new features that will be implemented on the game.
Huge graphic update, everything has been remade or polished
New stages, forests, farms, graveyards and castles
New enemy type, monks
New villager types, lamp carrying villagers and spirits
New more colorful day/night cycle
Power ups implemented: Fog transformation
Improved bonus stages
Improved stage intro screens
Online scoreboards
Individual volume controls for music and sound effects
Various bugfixes and tweaks
Read full changelog here

Simple and fast-paced gameplay
8-bit styled graphics
8-bit styled music and sounds
Online scoreboards
Small Bonus Stages
Graphic and sound configurable options
Scanlines and CRT styled filters

There are some features I have in mind, or I have already started working in, but didn't make it in time for this demo.
Some stuff you may see on future updates includes
More music and sound effects
More power up and special habilities
More levels and stages variations
Different types of enemies
Different types of bonus stages
Boss fights

A small and very simple one man project I started as my entry for AGDG's Waifu Jam 2016. Since I received a lot of positive reviews on it and I had a lot of ideas that didn't make it to the first demo in time, I decided to keep working on it to slowly make it bigger and better.
Main inspration, as you can imagine, comes from older games like Bomberman and Berzerk, and NES aesthetics and limitations.
Keep an eye on it for any future updates, and send me any suggestions, questions, reviews and feedback, here or on social networks. Your opinion is highly appreciated!
---
Install instructions
Unzip and play!
Windows 8.1 and Windows 10 systems might prompt you to install DirectPlay. You can choose to not install it if you don't want to, and the game will still work properly.